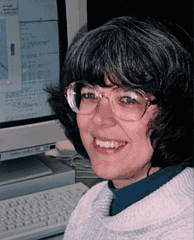 Brenda S. Baker
email: bsb at softalytics.com
My interests are in algorithms and software tools to solve real-world problems. The application areas I am currently interested in are code analysis and bioinformatics. In analysis of algorithms, my interests are in string pattern matching, data structures, approximation algorithms for NP-hard problems, and combinatorial algorithms.

---
Home

Last modified: Sat Jan 22 21:16:12 PST 2011
© 2011 Brenda S. Baker. All rights reserved.